The members of Generation 2 Table Tennis Club would like to welcome you to our website.

The club enters teams in local as well as national leagues. These competition teams allow our players to test their technical playing skills at an appropriate level of competition. We provide access to teams for all the playing levels and ages from beginner Juniors to adults who wish to play at high competitive level.

General practice is held on a Monday night, junior level coaching is on Friday nights, both starting 7pm. Please see posts below for announcements regarding advanced level training and school holiday sessions.
November 17th, 2015

Portsmouth
No Comments »
As expected, Generation 2 Aces lead the way in the Portsmouth league. Newcomer Vincent Cheung performing exceptionally and maintaining a 75% average. Stalwart Mike Rhodes maintaining his usual high standard and a long awaited welcome back from none other than Charlie Childs! Perhaps less expected was the strong performance from Kings. Steady improvement this season from Graham Smith and Ian Brown. Danny Lucking and Chairman Mike Cooksley consolidating the teams strong mid table …read more…
November 6th, 2015

general
No Comments »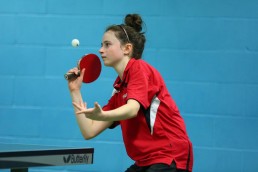 We hold training sessions for all levels on a Monday and Friday evenings at Fareham Academy School, St. Anne's Grove, Fareham. We play local league matches on a Wednesday evening. If you or your child are interested in attending a training session then please click here to contact us.
October 25th, 2015

cadets and juniors
No Comments »
The National Under 11-14 Championships took place at Ponds Forge Sports Centre last weekend with 6 members of Generation 2 Table Tennis Club competing. On Saturday the U14 and U13 events took place. Habina Seo came 3rd in her group and then had to wait for her U13 group where a she narrowly lost out on progression to the 1st round. Callum Ashworth also did not manage to escape his group …read more…
April 6th, 2015

cadets and juniors
No Comments »
Five club players took part as Hampshire Schools Champions to the Ntional Schools Individual Championships in Tipton. Jasmine Williams in the U11 category won all her matches in the group stage beating at least one higher nationally ranked player. Another win in the first round saw her progress to the quarter finals where she lost to te No2 seed. Habina Seo progressed from the group stage as runner up in …read more…
March 1st, 2015

cadets and juniors
No Comments »
A small group of club players made the early morning trip to south east London to Fusion TTC. Very encouraging results were achieved by all the players in their various age categories: Vincent Cheung proceeded all the way to the quarter finals before losing. Ryan Darwen reached the final of the U13 and was runner-up. Habina Seo lost in the semi-final of the Under 13 girls. Luke Darwen lost in …read more…
February 1st, 2015

cadets and juniors
No Comments »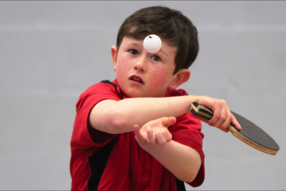 Jonny McMullan made the trip to Burton On Trent last weekend to compete in the seasons most difficult tournament for U15's. As a wild card entry and seeded 12 out of 12 he had nothing to lose in the competition. The tournament is an "all play all" format over 2 days. On the Saturday Jonny had to play the top 6 seeds one after the other – tough start. He …read more…