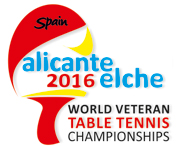 A small group of intrepid Generation 2 veterans have visited the sunnier climes of Alicante, purely for table tennis reasons of course! This year the city of Elche provided a fascinating, cultural backdrop to the 2016 veterans tournament.
Thanks to daily reporting from club member Greamme Smith, the tournament and its players sound as interesting and varied and the host city itself….
Representing Generation 2 in the tournament were Greamme Smith, Charlie Childs and Mike Rhodes.
Click here for the full gallery
Day 1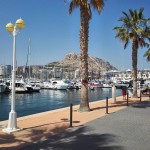 Great first day on journey to Alicante for World Vets Table Tennis 2016 with Charlie and Janice Childs my hosts for the week. Flight was a bit 'bumpy' on entry to Alicante airport but we arrived in one piece at about 1815 local time me wearing my new black surgical stockings for the flight which I said was all the fashion amongst professional footballers and Charlie reminded me was also popular amongst other groups of not so 'professional' people (delivered in Charlie's usual slightly sarcastic style for those who know him).
We got through customs quickly thanks to their new automated face recognition barriers and picked up our new hire car. Here we discovered the Spanish hatred for direction signs and did 3 laps of the multi story before finding the exit (Charlie said he did it on purpose to get used to the car controls..yes we believe you Charlie!). With the aid of Janice's 'excellent' navigation skills! (and a sat nav) We arrived at Charlie's brothers villa which is on a private gated estate at a luxury golf course not far from the airport. We then followed the 'Krypton factor' style clues Janice had been given to gain access to the apartment (outside cabinet,key safe,gated pedestrian and automatic car barriers with key fobs) and we were in…hooray!
Very nice too with views out onto the golf course and the mountains behind and private swimming pool to boot .
We then drove out to Aspe our nearest local village and found a tapas bar where we practised our Spanish and managed to actually order some decent food and a couple of beers and then walked out into an evening celebration of music and fireworks which we imagined were a welcome celebration for our arrival at the Alicante games! . So overall a great start to our World Vets 2016 experience.
Day 2

Day 2 saw Mike Rhodes playing his first round singles group matches in a quite tough group but he played well and won all 3 of his matches to win his group in the 60-65 category and proceed to the next round of the competition.
Later in the morning Charlie Childs played his first round match in the 65+ group and played well to win his first 2 games relatively easily but appeared to become overwhelmed by the extreme heat in the arena and lost his last game in the 5th match but still goes through to the next round in 2nd place.
Day 3

My first match was the first of the day at 9 am so early rise to get breakfast and drive down to the IFA centre in Elche, feeling a bit jaded after drinking wine the night before with Charlie and Janice but soon got in the swing of things.
The format for the games is 4 players each playing in a round robin style with the top two players going into the next round and the other two going into the consolation rounds which are a straight knockout format. At the beginning of the match there is a group photo and exchange of small gifts before game play begins.
It was a fairly slow start for me in my group in the 40-50 age band and coupled with problems with my glasses (they flew off into somebody else's court at one point!) I didn't manage to win any of my games but still there's the consolations to come on Thursday and considering the amazingly high level of skill particularly in the 40+ and 50 + groups I wasn't too disappointed.
Next on at 11 30 was Mike and Charlie's doubles match which is played in the same format as the singles. They managed to win the first 2 games fairly easily before coming up against a stronger Swedish doubles pair who they lost to in the 5th set at 13-15.
In the next game it looked in the bag for Charlie and Mike but there opponents took advantage in a lull in the Gen2 couples performance to come back to 2 -2 before a return to form in the 5th game and victory for the pair to go through to the next round in second place.
My next match was the doubles at 7pm with my selected doubles partner Rodney (Moosa) Farquharson who is a British National League player so good news for me!
So time to kill before the match and a drive into Elche to find some elastic to hold my glasses on my head!. With the aid of my patchy Spanish I managed to get some spec elastic and we proceeded onto the centre for my doubles match.
There was a lot of pressure on myself to perform well with my higher ranked partner but fortunately we both played together well to win our first game against a Spanish couple quite easily at 3 nil. So far so good ! but the Italian team who were on next where clearly the strongest in the group and we did well to eventually take a game off them and losing the match 3-1.
Our final match was against a German outfit who fortunately had a weaker player who we both attacked so we had a fairly easy match to win 3-1 and go through in second place to the next round of the competition.
So it's a rest day from competition on Wednesday and a chance to do the touristy bit,drink,eat and swimming pool before the return to competition on Thursday…bring it on Alicante !
Day Off!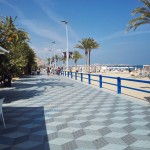 Wednesday is a day off from table tennis and a chance to do a bit of the proper holiday routine so we started with a walk around the golf course complex and a bit of shopping at the local supermarcado, 11€ about £8 for a litre of red label vodka ! not bad ! then a drive into Alicante and a few beers in a restaurant in the marina area.
Next a stroll along the promenade for local ice cream and a look in the main shopping area before meeting up with Mike and his sister Carol for a sit down evening meal on the street in Alicante central with fish, Paella and more beer and wine sat outside being serenaded by a string of musicians in the company of the hundreds of table tennis players staying in and around the area before returning home to more beer, wine and then bed before next days competition.
Day 4

Day 4 and a fairly early return to the IFA centre in Elche for our next round of games. My first match was against Ivan Oldsen from Germany in the first round of the 40+ consolations. He turned out to be a tricky short pimple combination player and he got off to a good start by winning the first game in a closely fought match. Thanks to some good coaching advise from Charlie (Gen 2 head coach) I was able to work back into the game and eventually took victory at 3-1.
In Charlie's 2nd match in the main group 65+ category his opponent didn't turn up so he got an automatic bye into the next round!
Two things I haven't mentioned is that the heat in the hall was ridiculous at times and it was often like playing in a green house which made playing for long difficult and also made the ball behave differently which took some getting used to ! and also the standard of player you could meet did vary quite a lot depending on what groups the players had been in previously so my next opponent Jose Fernandez from Spain must have been in a fairly tough group because although he came out third in his original group he was a tough opponent.
We started our game soon after my first and Fernandez used a long pimple combination to good effect by mixing spinny serves and powerful but accurate backhand smashes to eventually win the match 3-0…oh well out of the singles competition but still doubles to come.
The next match at 1130 was Mike Rhodes second round singles in the main draw 60+ group which saw Mike drawn against the Chinese player Jin Liang Yang who had to have the strangest bat I've ever seen with a handle at least 15 inches long!? Not only that he changed between pen hold and shake hand grip in between shots !? and used a combination of long pimples and normal rubbers to good effect along with a service throw that nearly hit the ceiling of the stadium it all added up to a great viewing spectacle. So after the usual 5 minute inspection of the bat before the judges declared his bat was legal the game got underway.
Yang took the first game in a close fought battle but Mike pulled out a great performance in the second game to equalise at 1-1. After this a combination of tricky and frustrating games saw Chang win 3-1 and take the match. Later in the tournament Chang gave other players a hard time and drew big crowds because of his unusual bat and style and there was plenty of controversy (and swearing!) from opponents!
Later in the day Charlie played his match against the French player Luc Delrive who used a combination of long pimples and normal rubbers to good effect. Charlie got off to a slowish start with some uncharacteristic net hit forehands to give the Frenchmen a first game win. Charlie settled more into his game but the Frenchman was able to stave off the attack with some nifty footwork and determination and a combination of slow long pimple returns eventually won him the second game. The third game was a similar affair and Delrive took the last game with a 13-11 victory.
Day 5
Day 5 Friday and another 930 start for the second round of doubles with my partner Rod (Musa) Farquharson.
Our opponents where a couple from Czech Republic Pavel Hruza and Miroslav Saleny. Fortunately for us one of the team struggled to read our service play and we won the first and second games fairly easily. In the second game lapses of concentration and a niggling stomach complaint for Musa meant we lost the next game but in the fourth game we concentrated and managed to get a convincing lead and eventually took the game and match 3-1 and entry into the next round of the competition.
At 10 oclock it was the turn of Charlie Childs and Mike Rhodes for their second round doubles match.
They were up against the Spanish combo of Vidal Moldanado and Luis Garcia a couple of combination bat players. The game was a fairly close battle and see-sawed between the two teams with the Spanish taking an early lead and the English duo fighting back to a 2 –2 position for the final game. Despite a valiant effort the Spanish duo managed to hold onto an early points advantage and eventually took the game to win 3-2 and it was an exit for the English duo.
It wasnt long before myself and Musa where back on the table for our next match at 1130.
It turned out that i had already played one of the Players Ingo Oldsen in the first round of the consolations and i had beaten him so that gave us a confidence boost. The other player Dieter Wrzodek also from Germany was an unknown entity and appeared fairly solid in the warm-ups.
The first game was a close fought affair but some strong attacking on our part saw us eventually win but the next game was a reversal of this result as the opponents started to get used to our game play and maximise on our loss of focus. The third game was also taken by the opponents and we had to fight hard to regain the fourth game and give ourselves a chance in the final game. Unfortunately a string of mistakes allowed the German duo to take a sizeable lead and although we made a concerted effort and clawed some points back we where unable to catch the Germans and they took the fifth game to knock us out of the competition…oh well its been a great experience and i ll look forward to improving on the results in the next World Vets in Las Vegas in 2018 !!
The Saturday and Sunday matches were the semi –finals and finals of the competition in each of the age and gender groups and the big guns took to the stage. Our best player in the 40+ group was L Trumpauskas who was knocked out in the quarter finals by the eventual winner in that age band the Frenchman Eric Durand who beat his Swedish opponent Matts Kaellberg 3-2 in a high speed battle to the finish post.