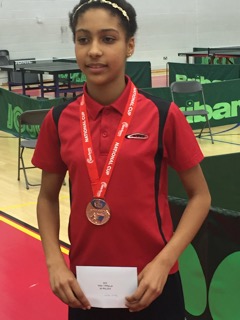 Both Jonny McMullan and Jasmine Williams made the short trip to SGS Bristol to compete in what is probably the most difficult tournament of the year for those age bands.
Each event is an all play all format over 2 days.Jonny started Saturday morning as 6th seed out of 10, his first day saw him beat 2 players seeded above him so a great start. Day 2 saw him win 3 out 4 matches, these results gained him a 5th place overall. A great result for Jonny.
Jasmine started the 1st day in 6th seeded place out of 8. Her first day saw her win 3 out of including the 2nd seed Scarlett O'Neill.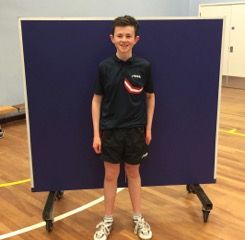 Day 2 saw a reversal of her fortunes losing several matches in closely fought battles. She needed to win her last match against a higher seeded player to get 3rd place – after being 2-0 and 7-3 down a timely time out managed to reverse the match and saw Jasmine run out 3-2 winner. great result for Jasmine.